Our Story
Hanna & David: A workplace love story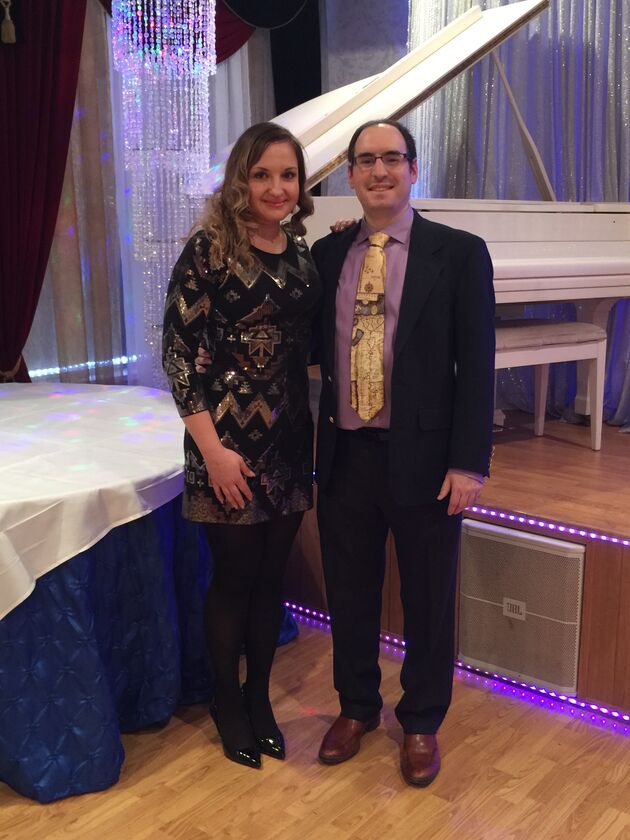 Some people are just drawn to each other and meet at a coffee shop or party, and some, like Hanna and David, find that all that separates them are a few cubicles. Yes, our friends, we met while both working in the administrative offices of Home Health Care, Inc. Perhaps it all started with a pretty girl (Hanna) who would always follow her requests of this new team member (David) with, "Thank you dear." He may not have been the only one to get this response from her, but it seemed so personal and sincere.
As we started dating, we would take our lunches together, go for walks on breaks, and generally spend more time together than most in budding relationships. Hanna, the perpetual "damsel in distress" would call upon David for any number of odd occurrences. Whether it was installing a washing machine in the bathroom hallway or replacing a ceiling light that mysteriously came crashing down in the kitchen, together, David and Hanna handled it all.
After about a year, we moved in together at our "brown house" in Plymouth. Our time together became mystifying to our friends since who can handle living together, carpooling together, and working together. All we could say was, "it works for us." Eventually, David got a new job which changed the togetherness time, but has done nothing to our closeness.
And that, dear reader, brings us to the present. We are excited to include each of you in our upcoming nuptials in September and wish you all a joyful summer until we see you!
The Wedding
Sunday, September 16, 2018
Attire: Black Tie Optional
Ceremony
Maetzold Amphitheater
7499 France Ave S, Edina, MN 55435, USA
Reception
Calhoun Beach Club
2925 Dean Pkwy, Minneapolis, MN 55416, USA
Wedding Party
Alexander Strauss - Best Man
Alex is my brother. I'm thrilled that he and his family will be joining us from New Jersey, and that he will be my best man!
Chuck - Groomsman
Chuck has been one of my best friends since sixth grade. We have been through so much together and despite anything life throws our way, our friendship remains true. I'm thrilled he will be making the trip from sunny California to be one of my groomsmen.
Dustin - Groomsman
Dustin and his family has been like my second family since we met when we were little kids. We have tons of stories from our trips together. From New York to Israel, we've been through a lot and our friendship grows as our lives do. I appreciate him coming up from the Windy City to stand with me at my wedding.
Dan - Groomsman
Dan has been my friend since middle school. I can always count on Dan to have a cheerful demeanor and a can do attitude. Even if we disagree about whether cats or dogs make the best pets, we remain close friends. I am thankful that he is a part of the wedding party.
Eric - Groomsman
Eric and I met through our mutual friend Chuck (also listed among the groomsmen). Even though Chuck has moved out to San Francisco, Eric and I have continued to grow our friendship. While our companies may be rivals, we certainly aren't and I am glad to have him as one of my groomsmen.
Matthew - Ring Bearer
My nephew Matthew will be acting as a ring bearer. He and I share our appreciation of Star Wars, Legos, and video games. He is growing up to be an amazing young man and is a very welcome addition to the wedding party.
Bradley - Ring Bearer
My youngest nephew Bradley will also be a ring bearer. He is adorable and lucky to boot as evidenced by his NCAA March Madness bracket. We look forward to having him participate in the wedding and to watch him grow over the years to come.
Nataliya Shovdra - Maid of Honor
Nataliya is my aunt. She has been a big part of my life and has been there for me through all my life's biggest moments. It will be a great joy to share this moment with her. We differ on opinion often, but Nataliya has always been so supportive of me. She is one of the closest people to me and my big day would not be the same without her as my maid of honor!
Nigina - Bridesmaid
Nigina has been my friend for over three years. She has been there for me through good and bad times. We met unexpectedly and our friendship has become very strong. I appreciate that she will be there for me again as one of my bridesmaids.
Megan - Bridesmaid
I've been friends with Megan for about a decade. Even when life changes, great friends like Megan stick with you. Our personalities are very different, yet we our friendship stays strong and she is a very welcome addition to the wedding party.
Ratiba - Bridesmaid
Ratiba is my longtime friend from Denver. Our friendship developed from the same place I met my future husband, Home Health Care. She is always a sympathetic ear when I need it and vice versa. Despite the distance, she always has time for me and excellent advice. It will be an honor to have her stand with me this September.
Michele - Bridesmaid
Michele is my sister-in-law to be. She has been very welcoming of me to the family and her home when we have visited New Jersey. I'm thankful that she helps me integrate into the Strauss family, and appreciate her being one of my bridesmaids.
Katrina - Flower Girl
Katrina is my daughter and my world...enough said.