Guest Accommodations
Residence Inn by Marriott Minneapolis Edina
3400 Edinborough Way, Edina, MN 55435, USA
952-893-9300
(Free shuttle service available)
Located in the suburb of Edina about 20 minutes from Downtown, the Resistance Inn offers spacious rooms and is close to the action. This hotel is a short walk from shopping, food, and the sites of both the wedding ceremony and rehearsal dinner. The wedding reception is 15 minutes away near Downtown Minneapolis.
Things to Do
SEA LIFE Minnesota Aquarium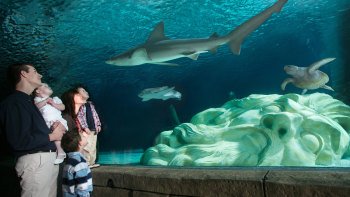 120 East Broadway Mall of America, Bloomington, MN 55425
A wonder for all ages, SEA LIFE Minnesota Aquarium is home to more than 10,000 sea creatures in 1.3 million gallons (4,921 cbm) of water. Explore 30 displays including interactive touch pools, walk through a 300-foot (91-m) tunnel, and see a blacktip reef shark swimming with graceful rays.
Walk through the Ocean Tunnel without getting wet and take time to marvel at the spectacular sea creatures swimming overhead. With 4 unique tanks—Rainbow Reef, Atlantic, Amazon River, and Sturgeon Lake—immerse yourself in the aquatic adventure. You may spot green sea turtles, sawfish, paddlefish, arapaima, or the bright white teeth of the 9-foot (2.7-m) sand tiger sharks.
In the interactive Claws exhibit, spot Japanese spider crabs that can reach 12-feet (3.6-m) across. See how a crab's claw works from all angles, even underneath, and get an up-close look at how they eat. Then play a game of hide-and-seek with a giant Pacific octopus, a master of disguise, playfully swimming around while a clownfish takes cover in a sea anemone—its home base.
Before you wrap up your day at the aquarium, stop by one of the presentations and feedings that marine experts host daily or opt for a hands-on adventure and feel a starfish, sea urchin, shark pup, or horseshoe crab interactive touch pool.
Admission to The Museum of Russian Art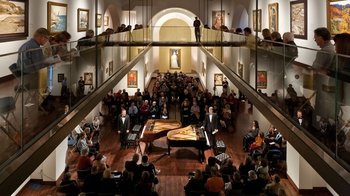 5500 Stevens Avenue, Minneapolis, Minnesota 55419
Gain a better understanding of the richness of Russian culture at The Museum of Russian Art, the only major institution in North America devoted to Russian arts and culture. Drawing on privately held collections from around the world, TMORA grants you a new perspective on Russia through rotating exhibits and live events.
Housed in a beautifully renovated historic building, The Museum of Russian Art boasts multi-level galleries which provide an intimate setting for TMORA'S exhibits, performances, and educational events. Weave your way through the museum to see world-class artwork that help you discover the stories of Russia's imperial past and what life was like during the Soviet period thanks to the largest collection of Soviet-era art outside Europe.
With the mission being "Education, Enlightenment, and Engagement through the Art of Russia," TMORA offers visitors a new and unique perspective on the country through the universal language of art. Explore thousands of years of artistic achievements and historic events through the works of esteemed Russian painters, sculptors, and textile-makers.
Mall of America (Bloomington) Taxi and Shuttle Center
Lindau Lane & Ikea Way, Bloomington, MN 55425, USA

Enjoy shopping and entertainment in the largest indoor mall in the United States.
Nicollet Mall, Minneapolis, MN, USA
Shopping and sights in the heart of downtown Minneapolis.
Stone Arch Bridge, Minneapolis, MN, USA
100 Portland Avenue, Minneapolis, MN, USA

Scenic views and a great walking area by the Mississippi River.
Como Park Zoo & Conservatory
1225 Estabrook Dr, St Paul, MN 55103, USA

Free outdoor zoo and gardens.
Minneapolis Sculpture Garden
726 Vineland Pl, Minneapolis, MN 55403, USA

Newly remodeled and scenic.
ShowPlace ICON Theatres at The West End with ICON⋅X
1625 West End Blvd, Minneapolis, MN 55416, USA

Movie theater surrounded by shops and dining options.